7. Using third-party content
Some external content from third-party providers is included on the official web pages of Freie Universität Berlin. Integrating external content such as videos, presentations, or news feeds, e.g., from social media services, can enhance the content of a website. As with the use of map services, data protection aspects need to be taken into consideration here, too. For that reason, the "two-step solution" described above is also used when integrating content from third-party providers. You can recognize this type of content when you see certain types of widgets, such as the Google Maps widget shown above at Section 7.
The two-step solution operates in a similar way for third-party content. By clicking the link you agree to a one-time data exchange between the respective websites of the above-named domain and the relevant third party. Under the default setting, data are not transmitted to the provider of the external content. You can permanently activate data exchange between the pages of the relevant domain and the provider of the external content, and you can revise this decision again at any time.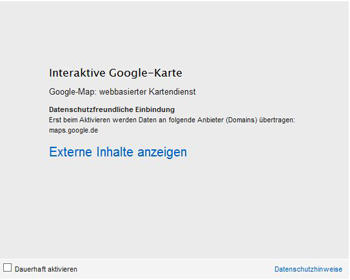 The website of Freie Universität Berlin uses Google Maps to visually depict geographical information. Data on how visitors use the map functions when using Google Maps is collected, processed, and used by Google. You can find further information on the data processing performed by Google in Google's Privacy Policy. You can also change your data protection settings via the Google Safety Center.
You can find detailed instructions on how to manage your data when using Google products here.
Without additional measures, the map services use technical means that ensure that even when viewing or loading the page using the map, data (including personal data) are exchanged between the original website and the map service (here, Google). In the aforementioned cases, the user has the option to refuse to allow such data to be transmitted.
To protect users of our web pages from this type of exchange of data, which is not subject to our influence, and from the transmission of data to the respective map service, we have incorporated an appropriate technical precaution called the two-step solution. This two-step solution gives users the opportunity, even after loading the service, to agree to the use of the respective map service (and thus to exchange data with this map service). The default setting of the two-step solution does not transmit data to the map service. This option may be decided on a case-by-case or permanent basis. A decision can be subsequently revised. If you do not want a map service to collect information about you via our website, do not activate it by clicking the respective map.
Maps supplied by Google Maps take the form of widgets, an example of which can be seen right.
By clicking the link, you agree to a one-time data exchange between the respective web page domain and Google. No data is transferred to Google by default. To permanently agree to data exchange between the website of a specific domain and the relevant map service, which requires a cookie on our part (see above), you should check the box "Permanently activate." You can also revise this decision again later.